For beautifully flowing medieval skirts, voluminous and full Renaissance skirts, country maiden skirts, and elegant skirts suited for ladies of the court, choose Your Dressmaker. Our selection includes expertly handmade period skirts from a variety of historic eras. Paired with one of our versatile chemises, corsets, or womens medieval blouses, our historic reenactment skirts are essential in creating stunning and unique outfits to wear to your next Renaissance festival or medieval themed event. Your Dressmaker can also custom tailor skirts to suit your specific size. Our medieval skirts come in authentic colors and high quality fabrics, such as 100 percent natural cotton that has been textured for a rustic appearance. Lose yourself in the layers and folds of our full skirts, which look their best when worn over one of our petticoats or hoop skirts. Expert gathering, pleating, and other carefully crafted details give our Renaissance skirts their authentic look. Our medieval maiden skirts are excellent additions to any historical reenactment wardrobe, as they can be combined time after time with different tops for a variety of unique looks suitable for historic LARP, Renaissance reenactments, theatrical productions, and more.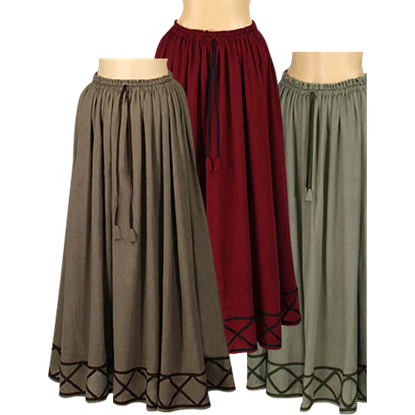 Item # MCI-235
The Saxon Skirt is a simple skirt, one suited for a wide variety of uses. There is no best use because it can fill a variety of needs. It is a perfect skirt for a female serf or for female nobility. It all depends on your need.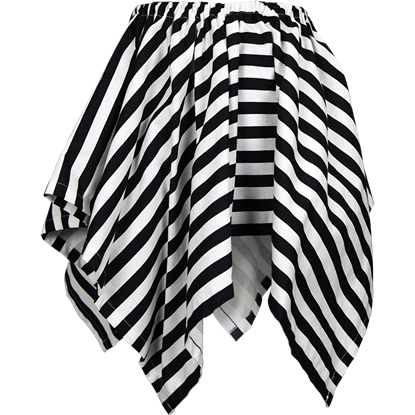 Item # MCI-550
Ahoy pirate wench, what clothes does ye wear? If one is a smart pirate lass, then you wear skirts like this awesome Striped Short Handkerchief Skirt. This cotton skirt works great for LARP events, cosplaying, and Renaissance faires.