At Your Dressmaker, our womens medieval jackets are handmade out of fine quality materials and expertly crafted with incredible detail. Many of these historic jackets feature a menswear-inspired structure that has been altered to better suit a feminine figure, sure to give you a unique look at your next historic reenactment event. Our womens historic jackets incorporate elements of Victorian tailcoats and long Renaissance frocks, such as ornately patterned fabrics, intricate details, and embellished cuffs and lapels. Browse our variety of historic outerwear, including Victorian style frock coats and womens baroque frocks made from beautiful brocade with velvet lapels and cuffs. Many feature an inner satin lining for an extra touch of elegance. Our open front baroque jackets and Victorian tailcoats are available in luxurious antique velvet, a lovely addition to a Renaissance noblewomans clothing, and our womens Renaissance jackets can be custom tailored to help you achieve your best fit. Available in a wide variety of colors, styles, and high quality materials, our medieval and Renaissance jackets are a unique option for your next historic reenactment, Renaissance festival, LARP event outfit. Their high level of authentic detail makes our womens jackets great costumes for theatrical productions as well.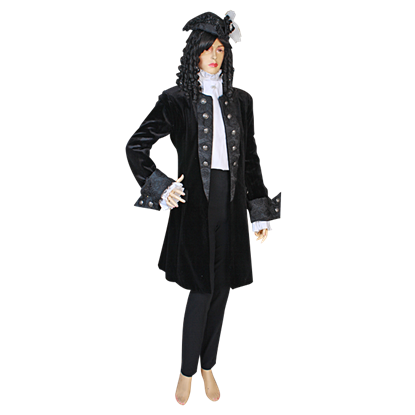 Item # MCI-349
The frock coat first came about during the Napoleonic Wars, and achieved widespread popularity during the Victorian and Edwardian periods, during which time it was a common men's garment. And now, women can enjoy it too, as this Womens Baroque Frock Coat.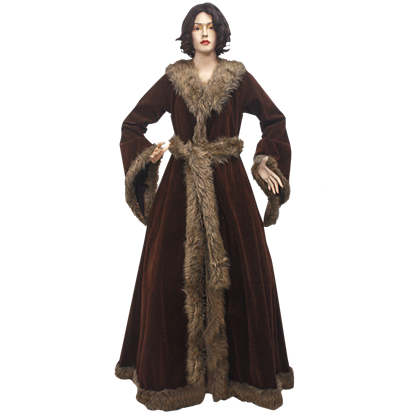 Item # MCI-415
Soft suede texture fabric and faux fur combine to form the Womens Medieval Fur Trimmed Coat, a skillfully handmade garment fit for wintertime reenactment events. Wear this coat for a look that is simultaneously regal yet rugged.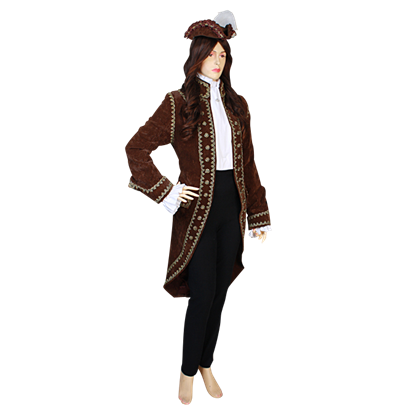 Item # MCI-350
A touch of class and refinement can be had just by adding a great waistcoat to your attire, whether you are wearing modern wear or old Victorian fashions. And for the woman who wants to do just that, this Womens Open Baroque Jacket will serve very well.