If you seek savings and special offers in childrens historical apparel, then you are in the right place. At Your Dressmaker, our goal is to bring you the highest quality period garments at amazing prices. That said, you should keep a close eye on this section. Markdowns, sales, and one-of-a-kind items abound here. We offer tunics, cloaks, ritual robes, tartan dresses, ball gowns, and more at unbelievable prices. Period clothing from a variety of historical themes appears here. While a many of our items belong to the medieval, renaissance, Scottish, and Victorian eras, you may see a few gothic and steampunk garments as well. Most of the items here arrive in limited colors, sizes, and quantities. So, take advantage of them before they are gone forever. Perhaps your son or daughter requires a renaissance outfit for a school play. Maybe they wish to participate in a medieval reenactment. Whatever their fancy may be, you can support their aspirations without putting an enormous hole in your wallet. For the proud parent who seeks to foster their young lad or lasses love for all things historical, but wishes to be thrifty about it, Your Dressmaker offers high quality gowns, capes, robes, and more at exceptional prices.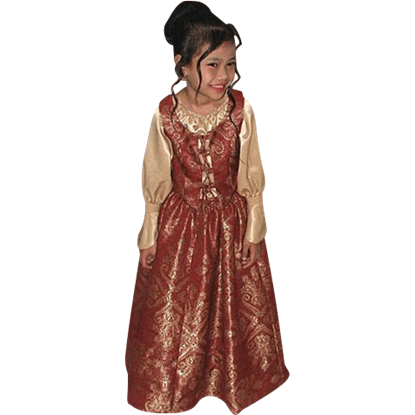 Item # MCI-155
The Childs Princess Dress is a 3 piece ensemble that includes the chemise, bodice, and skirt. The chemise is made of gold satin fabric. The bodice and skirt are made of a very nice brocade damask fabric, and the bodice is fully lined.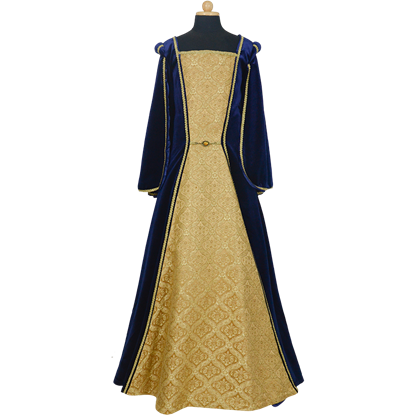 Item # YDM-CL-00257
This item is available in limited quantities. It is available at this discounted price in only the color and sizing described here.