With the right shirt, you can achieve a multitude of historic looks. Your Dressmaker offers you a fantastic selection of historic shirts that are expertly handcrafted in authentic styles out of high quality materials. Woven natural cotton makes up most of our peasant shirts, pirate shirts, medieval knight shirts, and other essential shirts that will suit almost any character. Some of our Renaissance shirts are well-suited to nobility and are made out of high quality satin. The perfect start to any outfit, our mens medieval shirts can serve as a base for almost any historic look, whether you prefer to dress as a squire, Crusader, bandit, swordsman, or even a well-to-do Renaissance lord. Choose from high collar shirts, lace up shirts, loose fitting shirts intended to be accentuated with a belt, shirts with billowing sleeves, and more. Many of our mens period shirts make versatile bases for almost any look, from the lowliest serf to a noble knight and beyond. Our shirts can also be specially tailored to fit your size and come in a variety of colors ranging from essential neutrals to the bright colors of medieval heraldry. Wear them to your next Renaissance festival, historic reenactment, or LARP event for a look that will help you fit right into your chosen setting and time period.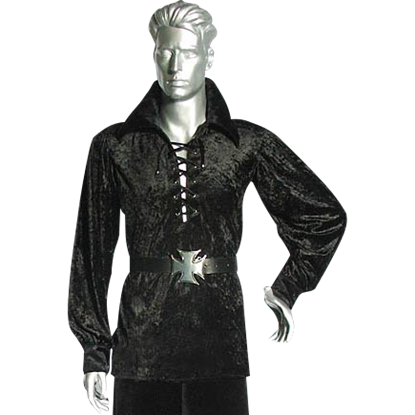 Item # MCI-276
The Velour Vampire Shirt is an attractive shirt that features touches of gothic style. This shirt is made from velour fabric to suite the tastes of nightly creatures. The shirt comes in several colors, although dark shades suit it best.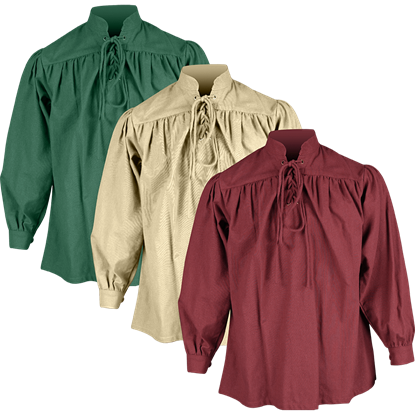 Item # MCI-545
Ready to take off on a great adventure or stroll through a medieval market? Wear the proper clothes, such as this Rustic Cotton Medieval Shirt. This cotton shirt works great for LARP events, reenactments, and Renaissance faires.